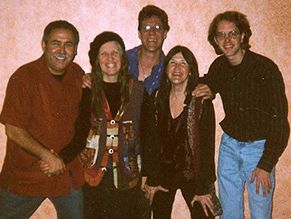 Formed in 2001 when Terry Tucker and Ardyth Gilbertson began playing with conga drummer Butch Sanders. Ezra Newkirk was the first Treehouse guitarist and Steve Kaldes the bass player.  Steve is also a keyboard player who has composed and recorded many lovely solo keyboard pieces.  Later guitarist Matt Robinson, and bass player John Quintanilla completed the Treehouse Indie & Latino rock sound.  Terry's keyboards, Ardyth's percussion and their vocals gave distinction to this band; so did the wealth of original songs.  Everyone had their songs to sing and all shared back-up vocals.  Most of the songs were originals but covers of pop, rock, reggae, and latino songs done Treehouse-style filled out the repertoire.
Before meeting John Q, Treehouse recorded Terry's songs for her Comin' Home CD, using Scott Rockwell for bass on some songs and Matt Lewis on others.  Jesse Shultzaberger and Brian Sager's drums helped some tracks rock, Dave Van Deventer's violin spiced "Dried Flowers" as did Steve Kemp's guitar in "On Shore".  Joe House, who recorded and engineered the CD contributed rhythm guitar to "Need It".  Kelly Cornelius' djembe gives the right feel for "Dried Flowers" and "Prying Eyes" and John Thomas' alto sax is wild and soaring for both "Restless Blues" and "Standin' in the Street".  
Treehouse is the band's only CD to feature tracks from all members and was recorded in musician Bill Unger's home studio.  There are original songs from Terry Tucker, Butch Sanders and Ardyth Gilbertson, original tunes from Matt Robinson.  Covers include Matt's beautifully arranged "The Maker" and Ardyth's soulful version of "Morning Dew".  The covers that became part of the Treehouse sound however are the Latino pop songs from bass player John Quintinilla; everyone was up and dancing for these. The CD cover is by Canadian Artist Cora Brittan with an added door by Matt Robinson. 
Treehouse played many festivals, including Panhandle Earthday Celebration, West Virginia Wine & Arts Festival, Mountain Stage Newsong Festival, Rolling Ridge Music Fest, Shepherdstown Street Fest, Festival for Peace & Unity, Country Roads Folk Festival and the  Peace in the Valley Gathering.   Their favorite gig venues included The Shepherdstown Opera House,  Cheryl Mansley's Riverhouse Concert Series, the Strasburg Theatre in Virginia,  Shepherdstown's Blue Moon Cafe,  The Mecklenburg Inn and early on, Ed's Beer & Wine.  Treehouse performances were jubilant affairs with fans dancing and singing their favorite Treehouse songs along with the band.
CDs by the band: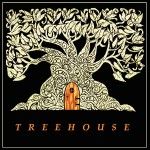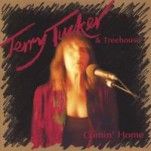 Keep In Touch on Facebook
Tuunes for Android Ringtone