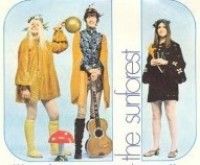 Sunforest was the first all-girl group in England to write and arrange their own songs and to perform live playing their own instruments without a backing band. Sunforest wrote from a wide range of influences - pop and rock, classical and folk. 
Terry Tucker started writing songs with Freya Hogue in Washington, D.C. in the late 60's. Freya had written poems and Terry turned them into songs. They met Erika at a party and the three started singing together.  They would duck into anyplace with good acoustics - public bathrooms, tunnels - the bigger the echo the better - and improvise. They would spin three independent melodic inventions and weave and work them all together.   Terry remembers singing "O Come O Come Emmanuel" in intervals of open fourths and then in open fifths. "It was so much fun to be able to do stuff like that spontaneously." Terry loved Medieval & Renaissance music - she majored in music in college and studied classical piano and Freya had studied classical guitar in Washington, D C with Sophocles Papas who was a student of Segovia. Erika was in kindermusik in New York City as a child and grew up with parents who sang. The three had a natural feel and love for classical, especially early music and also for folk music and pop/rock. All were fans of the Beatles, so when Freya announced plans to travel to Germany & Spain and intentions of ending up in London, Terry and Erika made plans to join her because by then, they had written enough songs together to want to continue and perform and be part of the London music scene.  Here's Erika visiting Switzerland before arriving in London.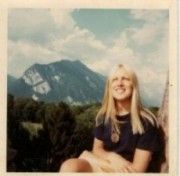 Freya, then Erika, then Terry moved to #5 Fellows Road, Chalk Farm, into a house that was their instant home and community of friends for life - artists, musicians, actors, writers from England, the U.S., Canada, New Zealand, Australia, Germany.   Eventually they got a flat together on Fleet Road, London, NW 3 not far from Hampstead Heath.  The three continued writing songs and picked the name Sunforest from Terry's childhood memory of playing in a neighbor's woods near her house, thick moss carpeting the ground, sunlight streaming down through the trees and lighting the floor of the woods.
Sunforest all lived near Hampstead Heath and went there whenever possible for walks.  Below is Erika doing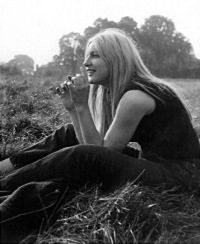 that very thing; Keats the poet did the same.  His house is near the heath.  One day, Erika and Terry met a guy in a cafe - Vic Smith (Vic Coppersmith)- who was taking a break from engineering a recording session in Decca Records' studio next door. He recorded a demo of some Sunforest songs that same night and became their manager two weeks later.  Vic was enamoured enough of 'his girls' and their songs to book Olympic Sound, the primo recording studio in London at the time and put his own money up for the recording of their LP, The Sound of Sunforest. 
 "We had superb session musicians" says Terry..."Vic's father, Harry Smith, was a session musician who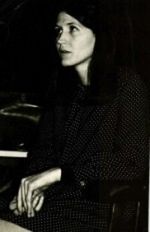 booked the other musicians for us and played piccolo, flute and bass clarinet himself.  It was a treat for me to record "Overture to the Sun" and have the luxury of the instruments that were in my head and that I had orchestrated it for and to hear it  just as I imagined."  Terry wrote all of the orchestrations for the session musicians except for one of Vic's songs, "Magician in the Mountain".  Here's a pic of Terry listening to a take in Olympic Sound Studios.  Sunforest invited friends in for the recording of Freya's song, "Old Cluck" and created a 'hoedown' to get the mood right. Their friend,Janet Kerr played Appalachian fiddle for that song and everyone else stomped their feet and whooped and hollered. 
The harmonium featured on the song, "All in Good Time" was a wonderfully ornate instrument Terry bought on Haverstock Hill for 10 pounds and it was taken across London to the studio in a rag & bone man's cart with Sunforest on board singing and playing as they went...(you guessed it - a publicity stunt!)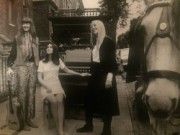 Terry says, "When we recorded the song, we had candles all over the studio, electric lights out, creating a medieval monkish atmosphere. My Glasweigan boyfriend, Austin Hyslop, recited the Latin incantations." Vic shopped the album about and Decca picked it up for it's new Deram Nova label. In spite of almost no promotion from the label, it's now a collector's item.  
Erika did the lettering of Sunforest and the flowers and critters - all of the cover art except the trees,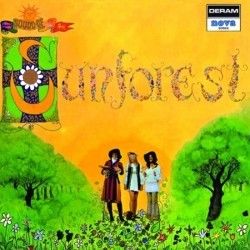 which her boyfriend's engineering student housemate wanted to do.  Vic took Sunforest shopping on Carnaby Street, which was the hip place then, for clothes for a photo shoot and what can be said of those styles?  
Sunforest played live using the house piano, their portable harmonium, Freya's guitars, lots of percussion, occasional recorder, kazoos.  Their first venue was The One World Club founded and hosted by Jon Skinner who became a lifelong friend and supporter of Sunforest.  Jon first met Freya at Speaker's Corner in London's Hyde Park when he was addressing an audience on the subject of One World governance.  Here is Jon's story of that meeting:  ..."On one occasion I noticed a young woman listening to me who was carrying a book (written by her uncle I later found out) called World Peace through World Law - the identical platform that I was speaking from.  Her name was Freya Hogue, she was an American singer-songwriter and we immediately hit if off.  Through Freya I met her friends and bandmates Terry and Erika - the three of them had come to London from America to form a band, Sunforest. We became close friends and they were big supporters of the club from its earliest days.  Their album, The Sound of Sunforest is still being sold today and remains one of my favorite records."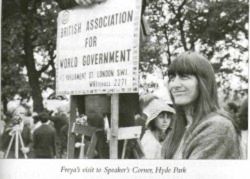 Sunforest played the Marquee Club on Oxford Street sharing the bill with blues legend John Mayall as well as Scottish comedian, poet, harmonium player, songwriter and friend, Ivor Cutler and headlining themselves. Memories from Terry: "We had a solid fan base of friends who came to all Sunforest shows, which helped our performances to become  theatrical events. This receptive fanbase enabled us to do off-the-wall stuff like start the second half of our show coming on singing an old hymn, "Bringing in the Sheaves", impersonating the Salvation Army and inviting people to come up and be saved.  Visitors to London from Europe who came to the Marquee because it was central and well known were totally perplexed for a while, but fans carried the evening and the perplexed became fans. Scottish comedian and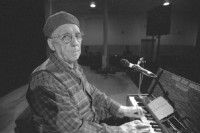 zany songwriter, the late Ivor Cutler sat in on Sunforest rehearsals sometimes and coached us in the art of understatement, which was his specialty and which was the opposite of our tendencies. Here's Ivor performing with his portable harmonium.  There's a photo of Ivor with The Beatles in "The Magical Mystery Tour" on the Photos Page. Sunforest  played the Crypt of St. Martins-in-the-Field and drove Judith, who booked the musicians, to distraction because it was a folk club and we were not her idea of folkies.  She did not appreciate our zany tastes and irreverant sense of humour.  We opened at the Chalk Farm Roundhouse and played The Troubadour a lot.  We were guests on John Pearce's Music Room TV show; Dilys Howell was the producer and she had dinner with Vic and Sunforest the night before the show which was filmed in Birmingham.  We were put up in a nice hotel and Freya got carried away with the luxury of room service, ordering brandy most of the night and we had a frantic time the next morning getting her straightened out in time to do the show."
"We played with an English band, Marmalade and lots of European bands for an Italian pop TV show filmed live in Turin called 6,001.  The show was in a huge indoor arena and catered to a teens/early twenties crowd. Popular bands and performers were on the bill so to avoid riots, they limited the number of real people fans and peopled some sections of the arena with cardboard cutout dummies - I swear to God.  It was almost creepy, but when the cameras did a sweeping pan, no one would ever guess.  Sunforest wore long dresses and going to the restroom there was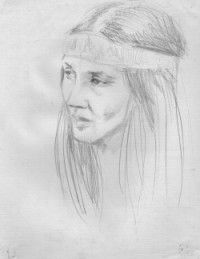 a bit tense; fortunately we were fit and flexible, so negotiating squatting over a hole in the floor did not result in a capsize.  Sorry, I had to tell that.  After the show, Sunforest was one of the last groups to leave the building and we were aware that there were hoardes of screaming fans outside waiting for their idols to emerge.  We were surprised leaving as we did after all the really big names, to be accosted by fans who tried to pry jewelry off Freya and surrounded and blocked us off so that our manager and others had to help get us to our taxi and then when we tried to leave, kids were hurling themselves onto the taxi.  We were thrilled and rose to the occasion, blowing kisses out the windows; our shining moment."  Here is a sketch of Terry done by Irish friend, Will Killeen, who is a gifted guitarist and performer as well as artist.   
Below is Erika in her Sunforest dress; each of us designed our own and friend, Penny Johnson, an artist who now lives in The Netherlands, made all Sunforest outfits - a combination Renaissance/wandering minstrel /flower child look.  Erika is playing a post horn the group bought in London's Portobello Road Market.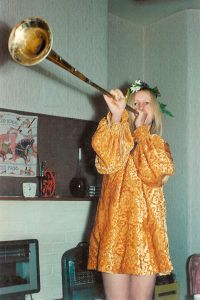 Keep In Touch on Facebook
Tuunes for Android Ringtone