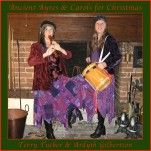 Well Kids, It's time to lube up the old vocal cords for a month of caroling 'round and about, here, there and everywhere. I love singing carols, especially the ones dating back to medieval times in England. I do have quite a collection of these and Ardyth Gilbertson and I have put some favourites on our Christmas CD, Ancient Ayres & Carols for Christmas, now specially priced and available for your wee gifts or stocking stuffers. Check out the Calendar page on this website for all of the caroling events I am hosting, accompanying, performing this season.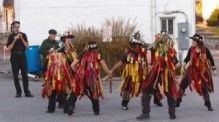 I will be drumming and dancing with the Shepherdstown Border Morris team, Hicks With Sticks in this year's Christmas Parade Dec. 3, details on the Calendar page. The photo is of us at our Day of Dance here in Shepherdstown November 5. We are dancing "Skirmish" behind the town library. I'm on the right, ready to jump in with my stick. Dave Feaser took the photo. 
As I write, Thanksgiving being two days away, I am grateful to be able to share some music with you and to be in touch with so many friends, old and new. Please keep in touch with me using the email on this website. 
Wishing everyone a cheerful heart, good friends, peace, inspiration, courage,  good health and challenging work for now and always. Terry