Starting with a First Friday Concert at The Orchard House December 1st, Terry and Ardyth will perform songs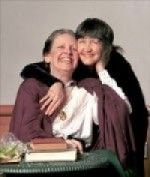 from their CDs and lots of new songs including Terry's own songs, favourite Appalachian folksongs and some carols. The next weekend finds them giving a house concert at Darden Mill in Elkins, WV; Terry will host a Community Caroling in the streets of Shepherdstown the following Sunday.  Details are on the Calendar page for all these events. 
Terry and Ardyth are looking forward to a concert coming in the spring of their Appalachian folk repertoire with special guests at The Black Box Arts Center in Shepherdstown, WV. Details will be here as they are available. 
Happy Thanksgiving Everyone! Here are lyrics from a lovely song I've sung with children with a tune credited to Beethoven, called "Approach of Winter". Notice in the lyrics, the month is October...either they have much colder Octobers in Germany than we do, or this is evidence of the progress of global warming...just sayin'...
Approach of Winter
The autumn winds are rustling down, the nights are growing longer, O'er forest, field, and meadow brown, October winds blow stronge, Far overhead in gray-ish sky, a flock of geese is calling, And as they journey swiftly by, a misty rain is falling. 
The flow'rs are withered all around by frost descending nightly, The fir trees bending, touch the ground with ice that sparkles brightly, Far off in lonely wood I hear the partridge faintly drumming, By all these signs the time is near when winter days are coming.