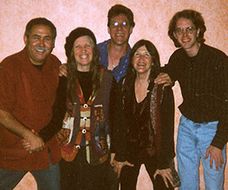 Time to report the Band Reunions with Treehouse and Girls Having Fun this summer and they're still going on!  Both Treehouse and Girls Having Fun got back together to play in August for the Twentieth Anniversary Celebration of Al Thomas' Folly Stage, built on the edge of Shepherdstown, WV in a magical woodland.  It was a creative weekend for music, friends, food, Al's new clay oven and his students' straw bale projects.  Girls Having Fun - Terry, Ardyth Gilbertson and Sally Schmidt - performed arrangements from their wild and wooly repertoire, ranging from Saffire's "Dump That Chump" to "You Made Me Love You".  They dove back into full harmonies and swam - no problemo - even though twenty years had gone by!  Such a treasure to sing with good musicians and friends.  
Treehouse also glided back into their repertoire of original songs and John Q's Latino rockers,no problemo - you'd never guess they hadn't played for three-four years.  You should have seen all of the kids dancing across in front of the stage and back during Treehouse's sets - over and over, really brilliant leaping and dancing.  It was so beautiful, like watching a colony of fairies.      
Mountain Thyme - Terry, Ardyth and Greg Lloyd played some Appalachian old-time favorites and some covers this weekend plus "Highway to the Moon", a great song of Greg's.  People seem to love strong harmonies, Mountain Thyme's forte.  Strong harmonies are also what people love most about Girls Having Fun.  
Terry has been  busy recording songs for Jim Surkamp's Civil War History Videos, learning great songs that were popular then, but are unknown to us now, arranging them for piano or autoharp and singing them.  They each have an interesting tale or two...one made Abraham Lincoln cry when he heard it, especially the verse about the death of a young girl, a sweetheart.  I never knew that Mary Todd Lincoln was not Abraham's first love.  You can pick and choose from a great number of videos of Jim's by going to https://www.youtube.com/user/jsurkamp.    
Terry will be hosting a monthly sing - hymns, rounds, sacred songs - at The Shepherdstown Presbyterian Church, starting Wednesday, October 22, 7-8 PM to be followed by a Sunday afternoon, 4:30-5:30 November 30 to see which day suits everyone. This is open to the community and is not a church service. There are no ties or committments here - just a chance to sing uninterrupted for an hour the best tunes and words of hymns that rarely get sung, also favorites, rounds and chants.  I will post more details when this gets finalized.  
Please sign up on this website to keep in touch with me; I would love to hear from you and know what you like about this site, any comments, anything you want to know or want me to know.  
Coming Soon:  I am about to begin recording my own songs with a new sound - just me and piano with maybe bass, vocal harmony - spare and simple.  I want also to re-record some of my songs with this sound; better flow, passion and strength.  Send your good vibes to me.  I need and appreciate them.     Much love, Terry